So, after almost two years of not creating anything new, I am finally writing again and it feels soooo good! Spring is a great time for renewal and hope, and these new songs feel like an affirmation of what I've been telling myself throughout my creative drought: "I'm still here, just a little quiet at the moment, but I'm still here, and I've been here all the while." Please check out my 2022 NPR Tiny Desk Contest Entry on YouTube:
If you like what you hear, please feel free to "like" the video on YouTube, and please share it with your friends! 
I am also excited for an upcoming show at The Music Room Cape Cod on Wednesday, March 16th at 8:00 p.m.. This will be a mostly original show, with some choice covers thrown in. If you've heard the buzz about The Music Room and you're wondering what it's all about, this is your chance to check out the scene with no cover charge! I will be joined by my bandmates from Heyday for this show, and we would love to see some familiar faces in the audience! 
Of course we'll be heading to O'Shea's Olde Inne to play the early set on St. Patrick's Day from 5:30 - 8:00, followed by The Skiffs at 8:30. It promises to be a rip-roaring great time! 
I'll end the month with a solo show at The Sons of Erin Cape Cod. I don't play many solo shows these days, and I am really looking forward to this gig! You can catch me on Saturday, March 26, from 7:00 - 10:00. The Sons of Erin is a members only club, but members are allowed to invite guests, and I'm a member - so hit me up if you want to come!  
Looking ahead to April, Heyday will be at O'Shea's Olde Inne on the first and fourth Thursday this month, as we will be away on the third Thursday. So  look for us on April 7 and April 28. We'll be back to our regular first and third Thursdays in May and June!
Friday, April 8th I am scheduled to appear for a Songwriters in the Round evening at One Broadway Collaborative in Lawrence, MA. Another rare opportunity to catch me solo and doing all originals! 
April 10th finds me back at The Sons of Erin with The Songbirds. We'll be playing from 4:00 - 7:00, and we've got a bunch of brand new tunes for you, so we hope you can make it to this show!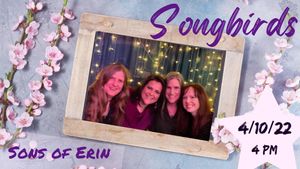 More gigs will be added to the calendar as they are scheduled, so be sure to check the show schedule! 
Until then, I'm still out there walking the beach every day, and posting my #abeachaday photo, so if not at a gig, maybe I'll see you at the beach. When I walk, I take time to meditate and think about things in my life and in the world. The people of Ukraine have been on my mind a lot lately. My son Calvin helped me edit the hint of yellow in the sunset to represent the yellow band in the Ukrainian flag.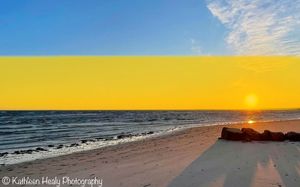 #prayforUkraine #prayforpeace. 
peace, love, & music -
kathleen