I usually love autumn. Cooler weather and crisper air. A time for change. But truthfully I'm not a big fan of change, and this autumn has brought some huge ones. My dad gave up the good fight on September 4th and I miss him in a huge heavy way - such a loss as I have never before encountered. He was my biggest fan and playing gigs knowing that he won't be out in the audience has been really really hard for me. But the healing power of music sometimes works its magic and so far I have been able play those gigs with only momentary pauses and a few tears.
My CD was scheduled to be released on Friday, September 28, but it didn't quite get finished with the scheduling glitches associated with losing a parent. So I played a "Concert Featuring New Works" at West Parish Church in West Barnstable to an intimate and understanding listening audience. I'll be heading up to Provincetown on Monday, October 8 to sing a few songs from said new CD on Bob Weiser's Old Songs Home Radio Show. So we are back at it, and stay tuned - you'll be the first to know when it's finished. The new CD will be entitled Embracing the Journey. Here's a little photo of me embracing my dad.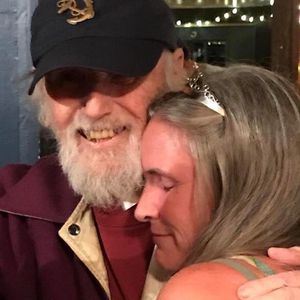 For now, please come find me at a gig. I promise to sing a song or two that my dad taught me when I was little. Don't Let Your Sweet Love Die, or That Olde Mountain Dew, Amelia Aerhart's Last Flight, or possibly even Truck Drivin' Man, as well as some of the new songs, and some of your favorite Heyday folk covers too. It'll be fun! 
The trees know best, when the summer's gone, and they're not afraid to let her go . . ." - from Stand in Awe by Dala
peace, love, music - kathleen