CapeSpace Coffeehouse, in partnership with RavenDaisy Productions and Folk New England Founder Betsy Siggins, will be hosting a special music event to benefit the victims of Hurricane Harvey. As Cape Codders we are also vulnerable to violent storms and our hearts go out to those devastated by Hurricane Harvey. We are thrilled to announce an outstanding lineup of talent featuring headliner Kate Taylor with accompanist Steve Mayone, opener Jordan Renzi, and emcee Bob Weiser of WOMR's The Old Songs' Home radio show.
Ticket sales: Houston Food Bank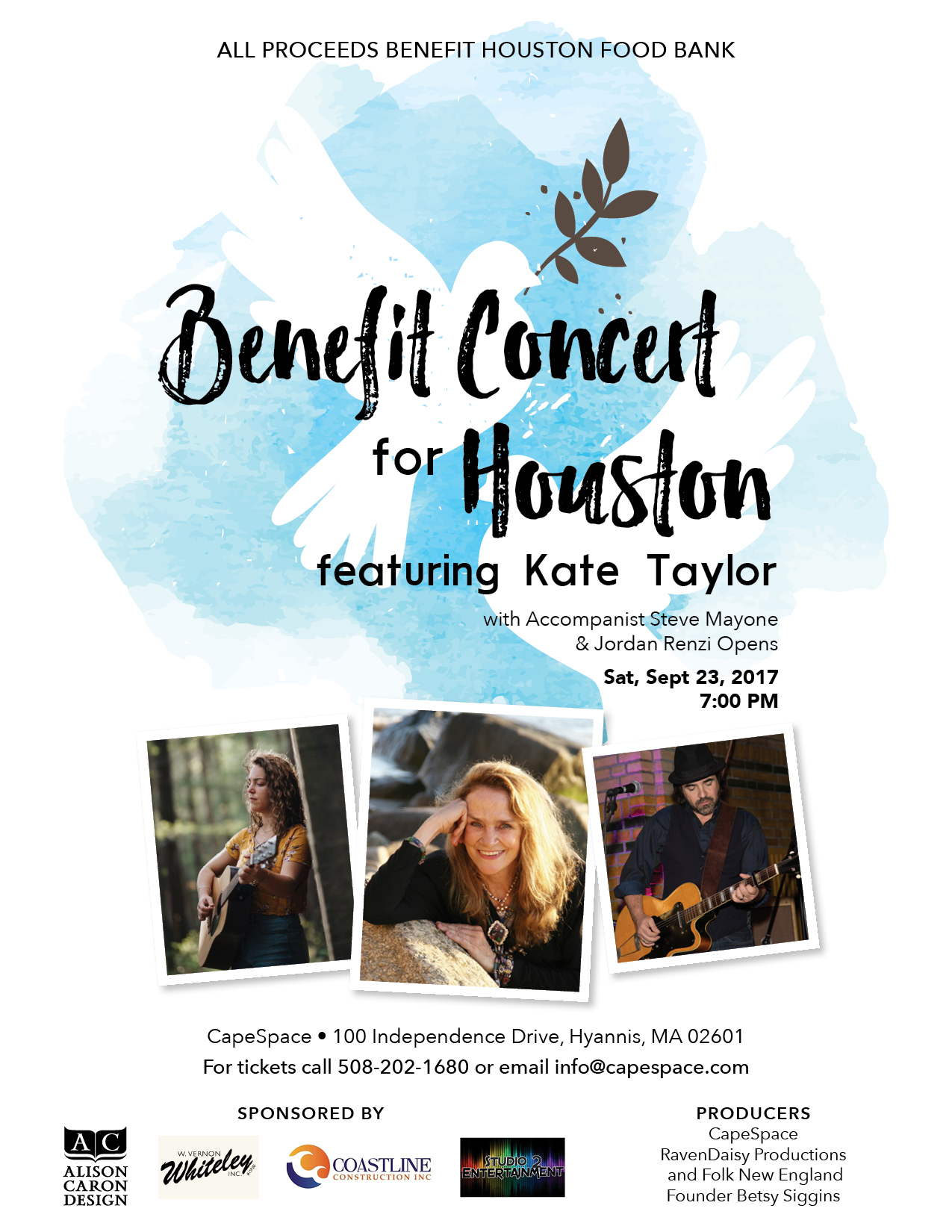 As a member of one of the most famous musical families in America, Kate Taylor and her four brothers, Alex, Livingston, Hugh and James, have all enjoyed success as performing and recording artists. Kate formed her first band at age 15 and had her first record deal with Atlantic Records four years later, her debut album Sister Kate. Her second album Kate Taylor, was released in 1978 and produced the charting hit, "It's in His Kiss (The Shoop Shoop Song)", done as a duet with brother James. The following year Taylor released It's in There, produced at the famed Muscle Shoals studios. Today Kate lives on Martha's Vineyard and remains an active recording and touring musician, with recent album releases including Beautiful Road and Fair Time! We are thrilled that Kate has agreed to join us for this special event. Kate will be accompanied by accomplished songwriter/producer/musician Steve Mayone, also an active recording and touring musician, who has worked with many well-known artists in addition to Kate, and has had original music featured in film and TV. 
The opening act is Cape Cod favorite Jordan Renzi whose fusion of folk and contemporary soul was influenced by artists like Eva Cassidy, Bob Dylan, Laura Marling and Norah Jones. She is known for a soulful voice and a sensitive songwriting style and has been the recent recipient of multiple awards and prizes for her latest album, Featherbed Lane. 
CapeSpace is a flexible workspace facility which doubles in the evenings as CapeSpace Coffeehouse, a true "listening room" for music lovers who want to hear live music in an informal concert-style environment free from the distractions of bar noise and activity. Past events have included such popular local artists as Kathleen Healy, Kim Moberg, Catherine King, Catie Flynn, Rose Martin, and Out Late with Diana DiGioia and Melody Masi. Future events on the schedule include Comedy Improv night with The New Classics on September 14, Bert Jackson & Roe Osborn on October 20, and Dawna Hammers performing a Joni Mitchell tribute the week of Joni's birthday on November 3. 
RavenDaisy is a partnership of Kathleen Healy and Kim Moberg, providing talent booking and event production services. Betsy Siggins founded Folk New England, an organization dedicated to fostering appreciation for and preservation of the indigenous folk music of the New England area. 
We are enormously thankful to the performers and others who are donating their time and services to this event. They include Coastline Construction; W. Vernon Whiteley Inc.; Brown, Lindquist, Fenuccio & Raber; Studio 2 Entertainment; and Alison Caron Design. Funds raised will be sent to the Houston Food Bank, an organization that collects and delivers food to those in need and serves close to a million people a year. 
Event Details: Saturday, September 23, 2017 7:00 PM at CapeSpace Coffee House, 100 Independence Drive, Hyannis, MA. Tickets $50, includes entertainment, food, wine and beer All proceeds will benefit the Houston Food Bank 
For additional information, call 508-202-1680, email info@capespace.com, or visit www.capespace.com/coffeehouse