I'm gearing up for a busy November! I've got two Cape Cod Songbirds shows, some full band shows with Heyday, and a few solo shows that I'm really excited about! So yeah, I'm getting busier just as the days are getting shorter. I'm a sunshine girl, so not a huge fan of shorter days, but I'm hoping to hunker down and get the creative juices flowing and write a few more songs. Oh! And the 2023 Beach A Day calendars have arrived, just in time for holiday gift giving, so if you are interested in picking up a calendar or two, I will have them with me at shows or you can send me an email at info@kathleenhealy.com to let me know how many you'd like to reserve!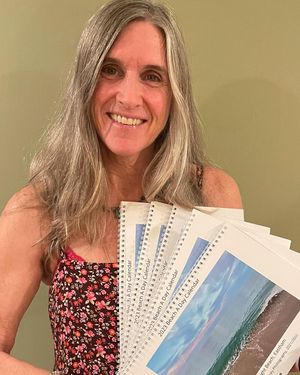 First up, Heyday will be playing our usual first Thursday gig at O'Shea's Olde Inne on November 3, but with shorter days come earlier start times, so we'll see you there from 7:00 - 10:00.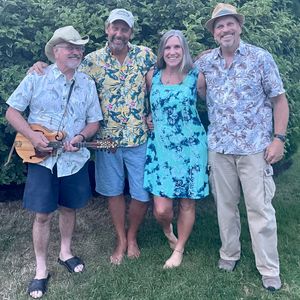 Sunday November 6th finds me at the Sons of Erin with the Songbirds from 5:00 - 8:00. The Sons of Erin is a private club, and the show is free for members. Guests of members pay $5 at the door.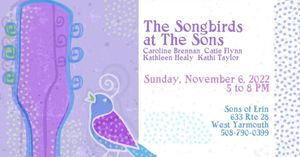 I'll be debuting solo at Buckies Biscotti in Dennis Port on Saturday, November 12 from 11:00 - 1:00. I'm super excited about this show so I hope to see you there!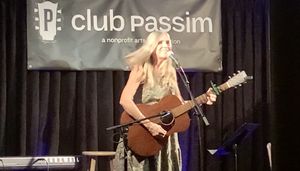 Heyday will be back at O'Shea's on Thursday, November 17th for our third Thursday gig, and remember the earlier start time - from 7:00 - 10:00. Bring all your friends! We will have you singing and dancing along! 
On Saturday, November 19th, I'll be joining Jan Luby and Rose Martin at One Broadway Collaborative in Lawrence, MA for a concert. I'm looking forward to sharing the stage with these beautiful songwriters. Tickets are $15. Please click here for tickets.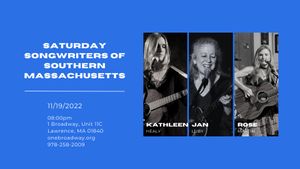 On Sunday, November 20th, I'll be back at Buckies Biscotti from 11:00 - 1:00. I don't play a lot of solo shows in the off-season so these shows will be intimate and you'll have a chance to hear some of my more "coffee-house" repertoire, which I'm really looking forward to! I'll be back for a few dates in December, too, so be sure to check the show schedule! 
Heyday is honored to be sharing the bill with Frank Poranski and Lary Chaplan of Blu Central at Nauset Interfaith Association's benefit on Sunday, November 20th at 3:00 p.m. at the South Harwich Meetinghouse. Tickets are $25 at the door and proceeds benefit refugees, asylum seekers, and immigrants here on Cape Cod.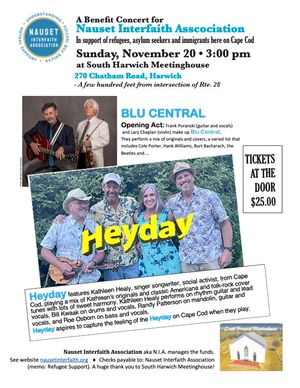 And finally, the Songbirds will be hitting Harvest Gallery Wine Bar in Dennis on Friday, November 25 from 4:30 - 6:30. This show is free and open to the public!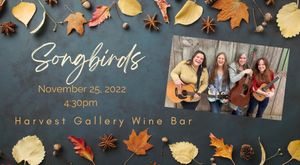 I can't wait to see you out and about at a show!