I am over the moon to announce that my new studio album, Embracing the Journey, is in production and we will be celebrating its release with a concert on Wednesday, March 27 at 8:00 p.m. at O'Shea's Olde Inne in West Dennis. So please mark your calendars - come to the show and pick up a CD while you're there! The digital version of the album will hit the on-line markets on Thursday, March 28.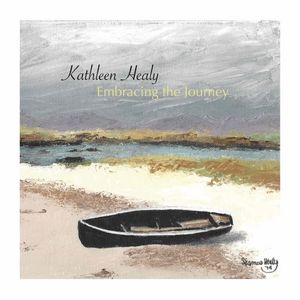 I have been working hard on these songs with Jon Evans at The Studio at Brick Hill for a little over a year. It has been quite a journey, not without a few bumps in the road, and I am incredibly proud of the finished product. I send my heartfelt gratitude out to all who helped shape these songs into what they are today. 
Thanks to Jon Evans for his positive energy and his discerning ear, and for laying down all of the bass tracks and countless other instruments as well. Thanks to Bill Kwaak for picking up all of the slack at home while I was in the studio for hours on end, and then coming in to add some vocal, drum, and percussion tracks. Thanks to Randy Patterson for taking time out of his busy work and life schedule to come into the studio and record some lead guitar, mandolin, and harmony tracks. Thanks to Mark Erelli for lending his voice to Small Things in a soulful interpretation of the second verse lyrics, and for joining in on the chorus as well. Thanks to Katy Boc Nickerson of Sparrow Blue for composing and performing a beautiful and ethereal fiddle part on Vagabond. Thanks to Catie Flynn, Doreen LaFranchise, Kim Moberg, and Tanya Roza for taking time on a summer Saturday in July to come off of the beach and into the studio to record the angel choir parts to Speaking Out, and then jumping in on the choruses of Small Things, Loopholes, and House of Love while they were there. And to Doreen for coming back in to add her signature harmonies on Slip Away, Over the Ocean, and counterpoint on House of Love. Thanks to Christine Lavin for noticing my song Speaking Out and playing it during her guest host appearance on John Platt's Sunday Supper on WFUV in  August. Thanks to Bob Weiser and Dinah Mellin for their support of local music and for playing some of the new tracks on WOMR. Thank you to my Dad, Seamus Healy, for gifting me the painting I am using for the cover art, as well as my love of music. Thank you to Kara Ryan Photography for the jacket photos. Thank you to Moira Birch Swiatkowski for helping me with the CD and jacket design. And thank you to Kristin Stearns Stewart for giving me a t-shirt entitled "Embrace the Journey" when I set out on my drive across country almost 30 years ago! I still have that t-shirt, and I still try to live by that sentiment.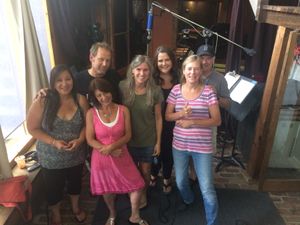 And most of all, I send my humble gratitude to each of you who are taking the time to read this blog. You have each inspired me in some way. Thank you for coming out to see me in all sorts of weather and at many different venues when I'm performing live, for supporting my music by purchasing CDs, and for asking encouragingly "when is the new CD going to be ready?"  Well it's ready, and I can't wait for you to hear it!