Upcoming Gigs: 
On Friday, February 19th, my band The Trailers will debut at Live From Center Stage on Shad Hole Road in Dennisport. This is going to be a folkin' good time!  The Trailers will be playing the first set, and the Catie Flynn Band will be playing the second, and we would love to see you in the audience, so mark your calendars!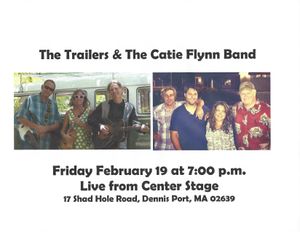 On Friday, March 4th, please join me at the Cultural Center of Cape Cod for the 4th annual Cape Songbirds Benefit Concert, a celebration of International Women's Day. In the spirit of "think globally, act locally," we will be singing songs written by women, for women, about women's issues to benefit Cape Wellness Collaborative and WE CAN. Tickets are $15 at the door. Doors open at 8:00, cafe style, concert starts at 8:30. The 2016 Cape Songbirds Benefit Concert will feature Diana DiGioia, Catie Flynn, Kathleen Healy, Catherine King, and Jordan Renzi.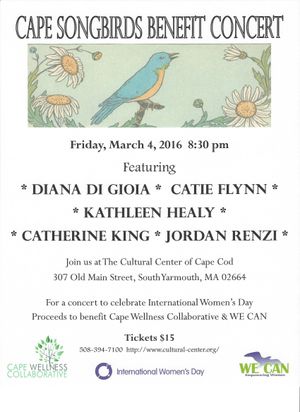 Open Mics: 
Every other Monday I'm hosting open mic at O'Shea's Olde Inne in West Dennis, with the Songwriter Circle taking place once per month on Monday February 22 and Monday March 21. So head on down and cozy up to the fireplace while you enjoy a delicious dinner, a pint or two, and great live music! 
Nicki and Zack Gowan got snowed out at the First Friday All Ages Open Mic on Friday, February 5 at the Cape Cod Theatre Company, Home of Harwich Junior Theatre's Arts Center in Harwich Center, and we are hoping to reschedule them for the first Friday in May. The Ukuladies will feature in March with guest host Rose McDonnell, and Roland Blair features in April. 
Oh the times, they are a changin' . . . 
Because making music with friends is always fun, it is with a bittersweet sentiment I announce that this coming Wednesday, February 10, will be the final Open Mic Showcase at Harvest Gallery Wine Bar in Dennis. Please help us celebrate the end of an era by bringing your best songs, spoken word, juggling talents, listening ears, or what-have-you - bring your friends - this will be one for the books.  Sign up at 7:00, open mic from 7:30 until we get through the list - this could be a long night! 
Starting on Wednesday, February 24th, The Trailers will be performing every Wednesday at Harvest.  This gig will be from 6:00 - 9:00 p.m. - a sort of Hump Day Happy Hour if you will.  So celebrate mid-week by catching a light dinner from their farm to table menu, enjoying a glass or two of your favorite libation, and taking in the Post-Americana sounds of The Trailers.  We are looking forward sharing our Wednesdays with you!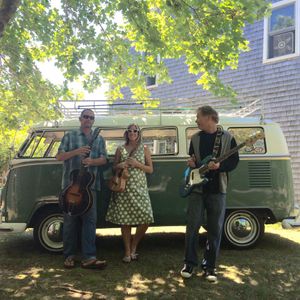 Here's a little taste of a brand new song recorded live at Truro Library back in January for your listening pleasure . . . 



Stay tuned for more dates in March & April . . .