In like a lion, and here's hoping that lamb is just hiding somewhere under all of this fluffy white stuff!  I cannot believe it's already March.  That's crazy!  I have been keeping quite busy writing some new tunes and hosting various and sundry open mics, Mondays at
O'Shea's Olde Inne
and Wednesdays at
Harvest Gallery Wine Bar
. Check out this great
article from the Cape Cod Times
about the open mic scene on Cape Cod. Our open mic at Harvest Gallery Wine Bar is one of three open mics featured. Thanks to reporter Andrew Roiter, photographer Ron Schloerb, and entertainment editor Kathy Scizzi Driscoll for the shout out!  And stay tuned for a Cape Cod Magazine article coming in April from reporter Lisa Cavanaugh with photos by Michael & Susan Karchmer.
Don't forget about the All Ages Open Mic which takes place on the first Friday of every month at
HJT Arts Center
.  I am pleased to announce that I have been awarded grant funding from the
Dennis
and
Harwich
local cultural councils of the
Massachusetts Cultural Council
in order to compensate our monthly feature artist. Friday, March 6 features local singer songwriter and spiritual healer
Alicia Mathewson
.
I also have a few concerts and solo gigs coming up that I'd like to share with you.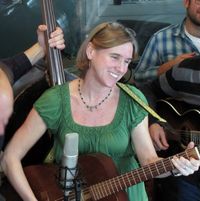 St. Paddy's Day celebrations start a little early here on Cape Cod, thanks to the annual St. Patrick's Day Parade.  I will be wearin' the green and kicking off the live music at O'Shea's Olde Inne again this year, right around 12:30 - 2:00 p.m. or so.  Be sure to stop in and warm your bones by the cozy fireplace, order off of the special parade day Irish Fare menu, enjoy a pint or two of Guinness, and be prepared to sing and clap along to some of your favorite Irish tunes.  The live music will continue all day and night with Sean Brennan, The Green Rovers, and Ireland (the band!).  Always a fine time - hope to see you there!  I will also be playing at some point in the afternoon on the actual High Holiday, March 17th prior to
The Skiffs
taking the stage for the evening festivities.  More details to come on that as they arise.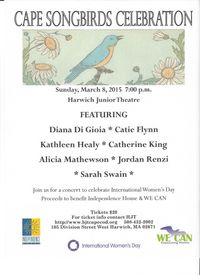 Sunday finds me once again surrounded by some of my favorite women.  I will be joined this year by some returning songbirds as well as a few new to the roster for the Third Annual Cape Songbirds Celebration concert in honor of International Women's Day.  Proceeds will benefit two local Cape organizations dedicated to empowering women in need -
Independence House
and
WE CAN
.  This year the women who will be joining me in this concert are veteran Songbirds Diana Di Gioia, Catie Flynn, Catherine King, & Alicia Mathewson.  Joining us for the first time this year are Jordan Renzi and Sarah Swain.  It's going to be a great event and it's for a great cause so I hope you will join us!  We will miss Joanna Meager and Monica Rizzio who were part of the original line up but were unable join us in 2015.
On Tuesday, March 24, I will be joining some other local musicians to play some live music at
Whole Foods in Hyannis
, who will be generously contributing 5% of the days' sales to
Vinegrass Organization
.  So come do your grocery shopping, listen to local live music, and support
Vinegrass
- it's a win win win!
Stay tuned for info on an upcoming house concert and other events coming this spring.  For now, I think it's off to shovel. (Again.)