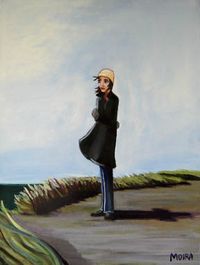 As 2014 comes to a close, I sit reflecting on all of the amazing events that have transpired in the past 12 months.  I finally finished and released my CD
Spark
, a labor of love which could never have been accomplished without the help of so many talented musicians, supportive family members, and wonderful friends.  Thanks to local artist and dear friend
Moira Birch Swiatkowski
, both for the original art "Looking Forward" which was the cd cover of my first live album - Crossing Lines, and also for snapping this picture from my Spark CD release party.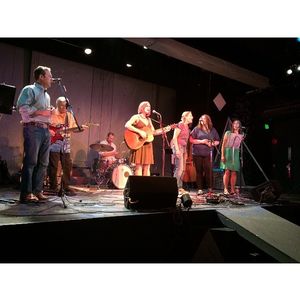 2014 saw the inaugural
Vinegrass Music Festival
at
Truro Vineyards
.  This event was a huge success and I am honored to serve on the board of the non-profit
Vinegrass Organization
whose mission includes providing a scholarship for a local student pursuing music at an accredited 4 year higher education institution.
I continue to host regular open mic nights at
Harvest Gallery Wine Bar
and
O'Shea's Olde Inne
, as well as the new all ages open mic I am hosting monthly for the
Harwich Junior Theatre
.  I had the pleasure of singing along with
Monica Rizzio
at her Holiday Show in early December at the Harwich Junior Theatre. 
In my spare time, I am enjoying jamming with my husband Bill and singer songwriter Frank Consiglio in my new band project
The Trailers
.  We are playing tons of original tunes and having a blast figuring out where we can collaborate and harmonize with each other.  You can check us out from time to time at Harvest Gallery Wine Bar.  Our most recent show, a double header with the
Catie Flynn Band
turned out to be a magical solstice celebration and we were surrounded by many close friends and random music lovers. 
The highlight of the year may have been being invited, along with several Cape musicians, to stage an impromptu holiday party on the air at
WOMR
on Bob Weiser's
The Old Songs Home Radio Show
.  Be sure to check out a podcast of the
Live Acoustic Holiday Party
!
Tonight, Bill Kwaak and I are honored to be singing an opening set from 7:30 - 8:00 at
O'Shea's Olde Inne's New Year's Celebration
.  Live music will continue throughout the night with
The Skiffs
, Caroline Henry, Dave Hickey & Doreen LaFranchise.  You still have time to make reservations! 
January will find me hibernating a little.  I will be off to the second annual
Cape Cod Songwriter's Retreat
where I'll be taking seminars with
David Roth
,
Reggie Harris
,
Cosy Sheridan
, &
Sloan Wainwright
.  Then I hope to be writing some brand new tunes for an upcoming album project peeking up over the horizon. Stay tuned for that! 

In the meantime, Happy New Year, everybody!





Wishing you all a peaceful New Year, filled with joy, love, & music. xo