So two is my lucky number. And 22 is my favorite number. So 2022? Well this has GOT to be my year! I've got some solo gigs and some Heyday gigs coming up - check out the upcoming shows on the calendar.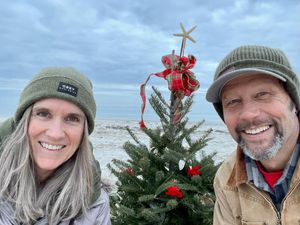 I started the year on a positive note - positive for Covid that is, so I've been hunkered down and quarantining. Luckily I have had very mild symptoms and I seem to be on the other side of it now. Of course the quarantining caused a bit of a hiccup, and I had to cancel all of my shows for this first week of the year. Bruce Maclean stepped in on January 1 to replace Heyday at the Barley Neck, Dave Hickey stepped in on January 6 to replace Heyday at O'Shea's, and Jan Luby stepped up on January 7 to replace me at a Songwriters in the Round show at One Broadway Collaborative in Lawrence, MA.
But don't worry! The shows pick up again mid-month with Heyday making our debut at The Sons of Erin on January 15, and then returning to O'Shea's for our regular Third Thursday gig on the 20th.
Some highlights from the fall included Heyday kicking off the music at the Cran Jam in Harwich on Saturday, September 18. We had folks up dancing and singing along. Thanks to Bob Weiser from the Old Songs Home Radio Show at OMR for giving us the opportunity to play the festival. October found us playing a short set at Payomet Performing Arts Center as part of The Bomb: Antinuke Songs from the 60's and Beyond show. This was a blast of an afternoon hanging out with Chandler Travis, Kami Lyle, Alex Brewer, Stephen Russell and others. Thanks to Dan Lombardi for putting it all together. We also played an intimate afternoon concert on Saturday, November 13 at Brooks Free Library in Harwich. And we wrapped up our fall concerts by appearing in the first installment of this year's Yule for Fuel at WHAT in Wellfleet on December 4. Karl Hoyt joined us on bass for many of these shows. Thanks to Michael and Suz Karchmer for capturing this photo of us.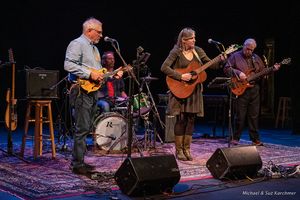 I also played many fun solo shows, both inside and out, including an afternoon at Mashpee Commons. I played a set of mostly original tunes and covers of some of my favorite female artists. I returned to the Artist Shanties at the Harbor Overlook Park for an afternoon in October, and I played a lovely sunny set as part of the Pop-Up Practice series at Parish Park in Orleans in November. You could also find me playing solo at The Harwich Inn and Tavern as well as at the Sons of Erin Cape Cod. And on Monday, December 13, I hosted my final scheduled open mic at O'Shea's Olde Inne. Although it is definitely the end of an era for me, I feel good about the change knowing that I passed the torch on to my good friend, talented songwriter, and gracious host Rose Martin. As Evie said, "ah, you've had a good run, pet!" and that's the truth! Thanks to my friend Brenda Meehan for snapping this photo of my last time hosting which captures just how much fun we've had over the years.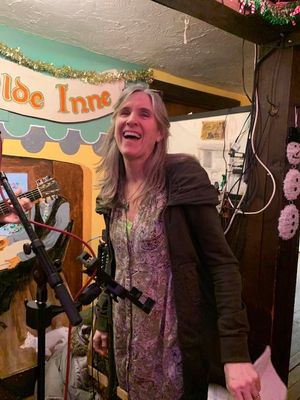 The Songbirds were finally able to safely resume rehearsals and performances. You have no idea how much joy it brings me to be able to make music with the talented likes of Kathi Taylor, Catie Flynn, and Caroline Brennan. We had a few great shows – one at The Sons of Erin Cape Cod on September 4 and the other at O'Shea's Olde Inne on November 19. Watch for more Songbirds shows coming up this spring!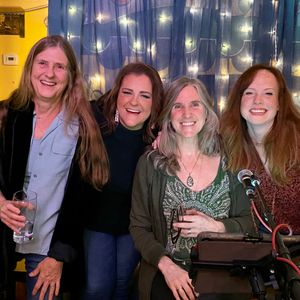 I have continued my commitment to my #abeachaday photo project, and this fall I created a 2022 calendar from some of my more popular photos. Part of the proceeds from the sale of each calendar were donated to the Mashpee Wampanoag Tribe, the original inhabitants of this land I am blessed to walk and photograph. You can follow my #abeachaday #saltwatersongwriter journey on my @khealymusic Instagram page. Here's one I snapped this morning, while it was still snowing but before the wind started blowing.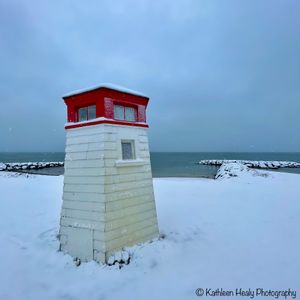 Oh and hey, I'm on Spotify! So be sure to listen to your favorite Kathleen Healy originals and add them to your playlists! Be safe out there folks, both in terms of weather and health, and I hope to see you out and about soon!