This summer I am excited to be returning to my roots at the
Harwich Junior Theatre
. I will be teaching Creative Movement to our youngest drama students on Tuesdays & Thursdays. Check out HJT's performance schedule and course offerings for students of all ages.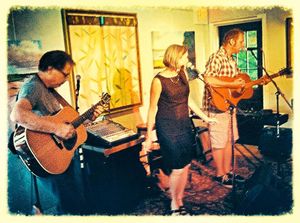 You can find The Trailers on Sunday, July 26, at the Live Love Local fest at Aselton Park in Hyannis for a nice extended set. Stay tuned for the exact time.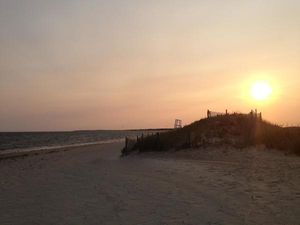 Saturday evenings will find me at the
Lighthouse Inn
for live music around the bonfire.  This is absolutely my favorite gig of the summer, and the view couldn't be more beautiful. Come for an early dinner at the Lighthouse Inn and then join me near the volleyball net on the west side of the Inn for a s'mores bonfire party. I will play a mix of classic cover tunes and originals to suit the audience's taste. 7:00 - 8:00 p.m.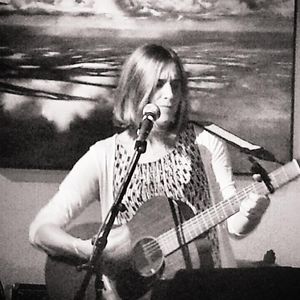 New this year, I will be playing an acoustic set at outside in the garden at
Karoo Restaurant
in Eastham on Wednesday, August 5 from 4:00 - 6:00 p.m. Come in and enjoy a late lunch, an early dinner, or some appetizers from their expansive menu. Looking forward to seeing some familiar faces in the crowd!
And on Thursday, July 16, Thursday, August 6, and Thursday, September 3, head on over to
Oliver's & Planck's Tavern
on 6A in Yarmouthport from 5:00 - 8:00 to find me singing your favorite tunes out on the patio in the boat!  It's gonna be a blast - hope to see you there - we'll kick off the weekend together in style!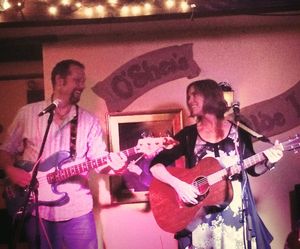 On the evening of July 26th, the duo of Kate & Bill return to
O'Shea's Olde Inne
after the session from 8:30 - 11:30. We'll be busting out a bunch of duets and sweet songs. A few rockin' ones, too. There'll be guitars and a bass and a uke and some sweet harmony. Most fun you can have with your clothes on. I swear. Hope to see you there!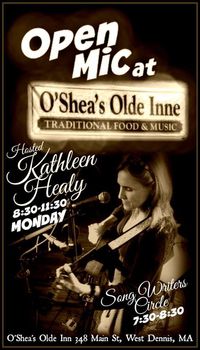 On the following Mondays: July 20th, August 10th, and August 31st, I will be hosting my Singer Songwriter Circle followed by Open Mic at
O'Shea's Olde Inne
.  Join us for our acoustic, originals-encouraged, session style circle around the trunk from 7:30 - 8:30, then stick around for the anything goes, plugged in portion of the evening from 8:30 - 11:30.  Come early to enjoy a delicious dinner, a glass or two of your favorite libation, and friendly service while you listen to some great live music in this authentic Irish pub setting. 
Harvest Gallery Wine Bar
Open Mic will continue on its First Wednesday of the Month schedule for the summer on August 5, & September 2.  Sign up at 7:00, music from 7:30 - 10:30. Come in early to get first crack at the sign up sheet. Stick around to enjoy a light dinner from the farm to table menu, sip a glass or two of your favorite craft beer, fine wine, or signature cocktail, and listen to some great live music while you take in the eclectic art gallery atmosphere.

HJT All Ages First Friday Open Mic
 will return on Friday, August 7th when
Monica Rizzio
will feature.
Admission is $5 and proceeds benefit the HJT scholarship fund. We are hoping to attract more than just musicians as well. For instance, artists could present a short play, spoken word, rap, dance, music, or other talent. Performers will be given a 5 - 10 minute slot, based on how many people show up to sign up for the open mic slots. Heartfelt thanks to the Mass Cultural Councils of Dennis & Harwich for funding the feature performers.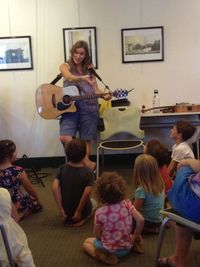 On Tuesday, August 4th I will be performing a Family Folk Concert at
Dennis Public Library
on Hall Street in Dennisport, MA at 2:00 p.m.  Come in out of the heat and join me as I sing traditional folk songs and a few original tunes with plenty of opportunity to sing, dance, and play along! Tell all your friends - fun for all ages!
On Tuesday, August 11th at 6:00 p.m. I will be appearing as part of the
Dennis Concerts on the Green
series sponsored by the Dennis Chamber of Commerce.  This concert will take place on the front lawn of the Graded Schoolhouse on School Street in West Dennis. I'll be playing everything from standard folk tunes to current indie pop with a few originals sprinkled in. Pack a picnic basket, bring a blanket and some lawn chairs, and enjoy your dinner while listening to some live music.  Hope to see you there!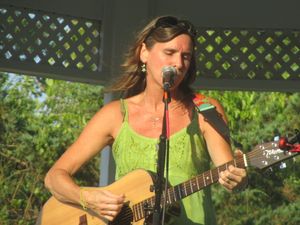 I am thrilled to be featured at the Arts Foundation of Cape Cod Soloist Series. Join me on Thursday, August 27 at 6:00 p.m. at
Mashpee Commons
for an evening of acoustic originals & cover tunes written by artists who have inspired me on my songwriting journey. Fun for the whole family. Hope to see you there!