Well, almost!  June will be here before you  know it and summer is promising to be a busy time for me, musically speaking. 
While our weekly Wednesday open mic at
Harvest Gallery Wine Bar
will be taking a little hiatus for the summer, we will continue to meet for the next two weeks on May 27 and on June 3.  We will then meet once a month on the first Wednesdays in July & August (July 1 and August 5) and then pick back up with the weekly schedule in the fall.  Always a great time - grab your friends and come early to eat a delicious light dinner, and get first crack at the sign up sheet! Sign up at 7:00, music from 7:30 - 10:30. PA, mics, cords, and stands provided.

I am proud to be serving my second year as a board member of The Vinegrass Organization. Our mission is to enhance the cultural quality of life through the production of Roots/Americana music concerts and festivals. We will preserve this traditional American genre of music through scholarships, workshops, and instrument donations, insuring its place for generations to come.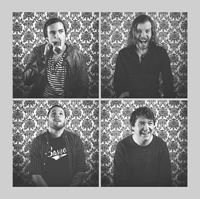 Vinegrass will continue it's Roots/Americana music residency on the last Thursday of every month at
O'Shea's Olde Inne
 in West Dennis. 
For all shows, doors at 6:00, opening act at 7:00, feature performer at 8:00. 
Ticket links
can be found on the Vinegrass website. 
May 28, 2015: Nemes
June 25, 2015: The Novel Ideas
July 30, 2015: Spuyten Duyvil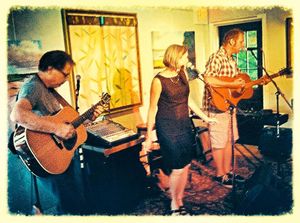 On May 31,
The Trailers
will be kicking off the music at
Seamus Healy's 2nd Annual Art Exhibit
at
O'Shea's Olde Inne
in West Dennis.  We will be followed by lots of other house musicians for an all day music jam.  Come by and enjoy a complimentary drink on the host, peruse the paintings and enjoy the local live music. It promises to be a great event - hope to see you there!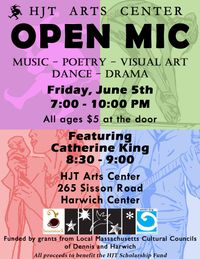 On June 5th, I will be hosting the First Friday All Ages Open Mic at the HJT Arts Center in Harwich Center from 7:00 - 10:00 p.m. Cape based singer songwriter Catherine King will feature from 8:30 - 9:00. We will take a break in July so as not to compete with 4th of July fireworks celebrations, then pick back up for the First Friday in August - August 7th, when Monica Rizzio will feature.
Admission is $5 and proceeds benefit the HJT scholarship fund. New this year, we will be featuring a Cape-based professional artist each month. The featured artist will appear from 8:30 - 9:00 and will perform for the audience as well as answer questions about their process and career in an effort to inspire the youth in the audience to recognize that the arts can be a viable profession. The event is open to the public, but we are hoping to attract junior high and high school students from all across the Cape, so spread the word! We are hoping to attract more than just musicians as well. For instance, artists could present a short play, spoken word, rap, dance, music, or other talent. Performers will be given a 5 - 10 minute slot, based on how many people show up to sign up for the open mic slots. Heartfelt thanks to the Mass Cultural Councils of Dennis & Harwich for funding the feature performers.

 
On June 6th, I am honored to be part of the line up for the
3rd Annual Concert for Kelly
- a breast cancer awareness fundraiser.  I will be playing with my husband Bill as the duo "Kate & Bill".  The concert is from 6:00 - 8:00 p.m. at the New Church Audience Room on 6A in Yarmouthport.  Suggested donation of $15 at the door.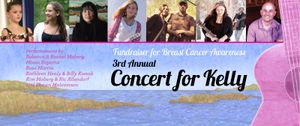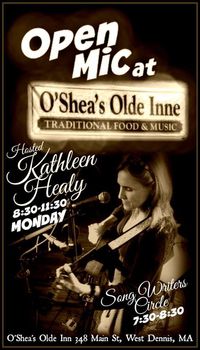 On June 8, and on every 3rd Monday throughout the summer, I will be hosting the
Singer Songwriter Circle followed by Open Mic
at
O'Shea's Olde Inne
. Join us for the acoustic, originals encouraged singer songwriter circle around the trunk at 7:30, stick around to sign up for the plugged in, anything goes open mic from 8:30 -11:30.
On June 25, Bill & I will be joined by Frank Consiglio as The Trailers make their debut at
The Office Bistro
in Plymouth as part of the Americana Thursday series - the brainchild of local Americana music favorite Todd Nickerson of the band
6 East
.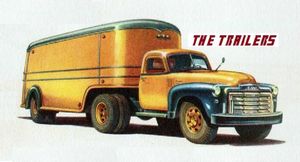 Stay tuned for more dates for July & August!