Yes well, fall is here. The boys are raking. Or at least that's what they're supposed to be doing. And in between being horrified by the news coming from Las Vegas, I'm trying to wrap my brain around the task of booking showcases and firming up plans for my second trip to NERFA. Luckily, there seem to be lots of opportunities for Songs of Peace and Freedom and Social Justice to be heard, and since those are the songs I tend to be writing these days, I'm in luck. Check out my new song - Loopholes. If you like what you hear, help yourself to a free download on my Reverbnation Page. And if you are so inclined, please consider making a donation to Everytown For Gun Safety, or visit your local chapter of Moms Demand Action for Gun sense in America to find out what you can do to help end gun violence in America.
The CapeSpace Coffee House Concert for Houston featuring Kate Taylor was a huge success. Jordan Renzi opened the evening with a mix of heartfelt original tunes and a few choice covers. Feature Kate Taylor took the stage and gave a warm and wonderful performance and it was an honor and privlege to work with her. Together with co-producers Kim Moberg, Robbin Orbison, and Besty Siggins, founder of Folk New England, and thanks to sponsors and all those who donated time and services, we were able to raise over $3,000 for Houston Food Bank.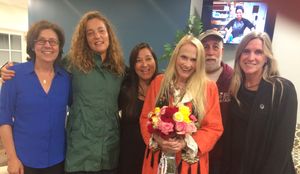 The 4th Annual Vinegrass Festival was just an incredible blast this year, and also wildly successful. And speaking of Vinegrass, founder Monica Rizzio of this awesome non-profit organization is sponsoring a pilot ukulele program at the school where I am a music teacher. The program is called Ukeleles In the Classroom and it was developed by James Hill and J. Chalmers Doane of Canada. Phase one began this summer when Vinegrass sent me to a training in Toronto to begin my James Hill Ukulele Initiative teacher certification process. Phase two is the pilot program in the school. I have a new classroom set of ukuleles, thanks to grants from VInegrass and Cape Cod 5. And now, through a grant from the John K. and Thirza F. Davenport Foundation, Vinegrass is donating enough ukuleles so every student in the program will be able to sign instruments out and practice at home, which will make a big difference in their learning outcomes.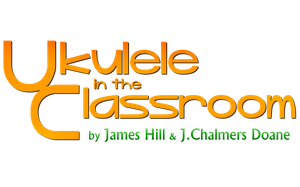 So I guess I spoke too soon about the weather holding for the 2nd annual Sandwich Arts Alliance Porchfest - stay tuned for the reschedule date, at some point in October, on a week-end afternoon from 1:00 - 6:00. I'll be playing the second set at the Brown Jug right after Kim Moberg - come find us!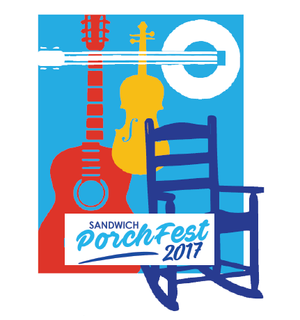 I'm excited to join Rand Burkert and Besty Siggins for "Disturbing the Peace, a Brief History of the Protest Song" at Cotuit Library on Saturday, October 14 at 3:00 p.m. We'll be playing everything from Woody Guthrie and Pete Seeger to Joan Baez and Bob Dylan with a little bit of everything else sprinkled in between.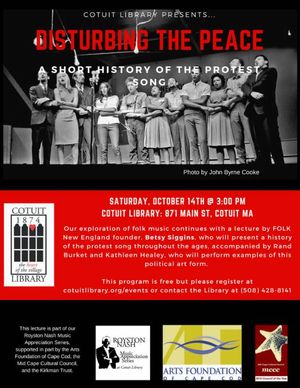 I've got a bunch of gigs coming up with Randy Patterson at a hot new venue - The Island Blue Crab in Brewster. The food is absolutely delicious and the atmosphere is lively and friendly, and Randy and I are having too much fun. Come check us out first & third Fridays from 7:00 -10:00. Randy and I will also be making an appearance after the session at O'Shea's Olde Inne on Sunday, October 22 at 7:30.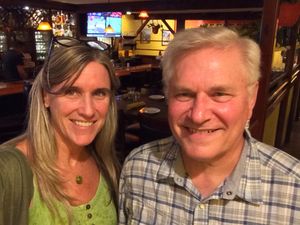 On Monday, October 23, at 7:00 p.m., I will be participating in a Celebration of Women in Music presented by the Acoustic Lounge at the Sandwich British Beer Company. Huge shout out to Hollis Green and Macalla for hosting this event!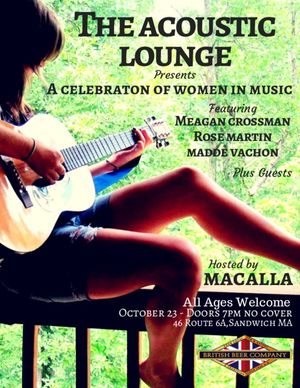 And don't forget to check out my open mic hosting gigs - first and third Mondays at O'Shea's Olde Inne and second and fourth Wednesdays at Harvest Gallery Wine Bar. 
So take a break from raking and come catch a show!