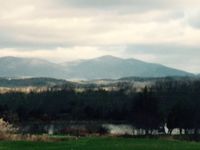 Just returned from the
North East Regional Folk Alliance
conference in Kerhonkson, NY where I connected with musicians, promoters, & DJ's from around the region and Canada.
I hung hard with Betsy Siggins Schmidt of Club 47,
Passim
, and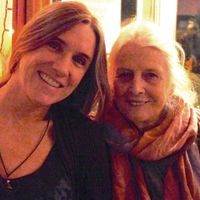 Folk New England
 fame, and received the benefit of her years of experience in the process, all while managing to have a folkin' great time. Betsy & I shared our luxurious accommodations with Pete Fasano and
Monica Rizzio
. 
Pete spent a lot of time scoping out new talent for our upcoming
Vinegrass
events, and Monica kept busy performing in showcases.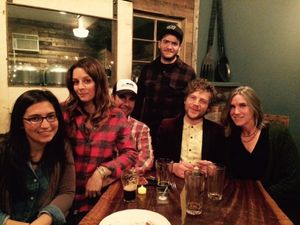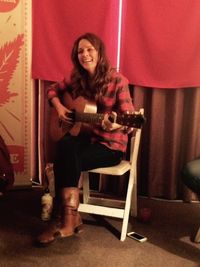 I attended workshops and mentoring sessions and numerous showcases and song-circles. I met some incredible musicians and very cool people. I can't wait to go back next year. I am energized and inspired after hearing so many new artists in such an intimate setting.  I took some time to write while I was away and I've got some new lyrics floating around in my head - stay tuned to see how those progress into songs.
And speaking of
Vinegrass
, be sure to catch the
Cape Cod release of Jeffrey Foucault's new CD
at 6:45 p.m. on Sunday, December 6 at Cape Cod Theatre Co. (Home of Harwich Junior Theatre) located at 105 Division Street in West Harwich.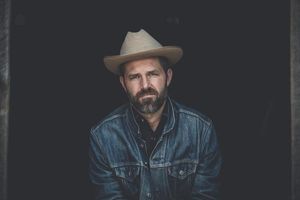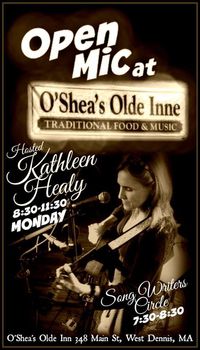 November has me busy with family and travel, but I'll be hosting my usual open mics at
O'Shea's Olde Inne
on Monday November 23 and Monday, December 14. We kick it off early with the acoustic Songwriter Circle from 7:30 - 8:30, then we plug in from 8:30 - 11:30. Come early to enjoy a delicious meal, a pint of your favorite beverage, and the cozy atmosphere by the fireplace, all while listening to local live music.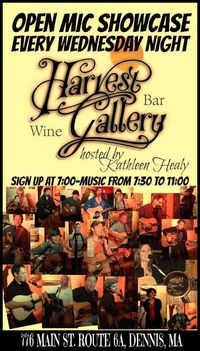 The Open Mic at 
Harvest Gallery Wine Bar
 is back to it's weekly schedule and you'll find me there on Wednesday, November 18, and every Wednesday in December.  Please note, due to the Thanksgiving Holiday, there will be no Harvest Open Mic on Thanksgiving Eve, Wednesday, November 25. Check out the Harvest Website to see what entertainment they have lined up for you!
And don't miss the 
Cape Cod Theatre Company
 (Home of HJT) First Friday All Ages Open Mic on Friday, December 4 from 7:00 - 10:00.  Soulful Singer Songwriter Rose Martin features at 8:30.  Always an enjoyable night for performers and listeners alike, so please spread the word!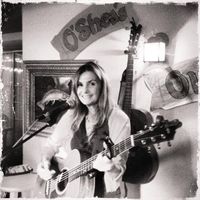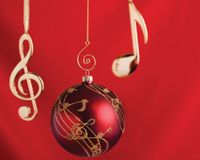 I'm breaking out the holiday songs and will be performing at
Ring Brother's Marketplace
in Dennis on Saturday, December 19th from 1:00 - 3:00. Then, on Thursday December 24, I will continue the tradition of my casual around the trunk Christmas Eve Sing-along at
O'Shea's Olde Inne
from about 5:00 - 7:00. Stop in on your way home from buying those last minute gifts and grab a cup of cheer. 
Come find me at the
Truro Public Library
on Saturday, January 16, 2016 at 1:00 p.m. where I'll be debuting some new songs and playing your favorites, like Off to Bookclub, as part of their Winter Music Series.                                                                                               
Stay tuned for more news and upcoming events!