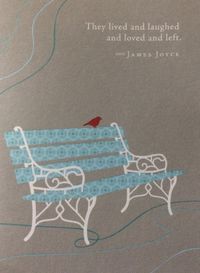 "They lived and laughed and loved and left." - James Joyce. It doesn't get much terser than that. Thank you, Mr. Jack Harrison for teaching me to love words and appreciate their power at an early age. You will be missed, dear sir.  
Reflecting back on an amazing autumn . . . I can't remember the last time we saw such beautiful foliage here on the cape. The maples were stunning, the copper beeches so vibrant, even the oaks chose orange and deep red before donning their typical brown. It was breathtaking. Alas, now the trees are bare and the leaves have been washed away by the recent wind and rain. Which means winter can't be too far behind, complete with a December chock full of Christmas Strolls, Carols, and Cavalcades!
First we'll be wrapping up November with a fun Thanksgiving Eve show at O'Shea's Olde Inne in West Dennis. So please check the upcoming show dates and come find me at one of my solo appearances, as a duo with Randy Patterson, or the trio at a Heyday gig.
Oh wait! I almost forgot! We finished all of the recording for the new CD at Brick Hill Studio and now we wait patiently while the songs are mixed, mastered, and the CDs produced. Stay tuned for news about upcoming release shows! 
Until then, please enjoy this little tune about the return of Old Man Winter on Cape Cod, recorded back in 2016 at Live From Center Stage with The Trailers featuring Frank Consiglio on mandolin and Bill Kwaak on bass.