Just returning from the 25th Annual NERFA conference in Stamford, CT, where I was honored to be presented by WOMR's Bob Weiser at the Suzi Wollenburg DJ Showcase on Thursday night. This main stage performance was followed by several Guerrilla Showcases late night Thursday, Friday, and Saturday night. Huge thanks to Linda Marks for snapping this photo of me at Friday night's RISA Rhode Showcase. I'd also like to thank Joe Virga at Cup of Joe Showcase, Larry Ahearn in the Trespass Music room, David Heitler-Klevens for hosting the Music for the New Revolution Showcase, and Scott Krokoff for hosting the One Up, One Down, One Down, One Cover showcase. These were very late nights filled with lots of fun and fine live music.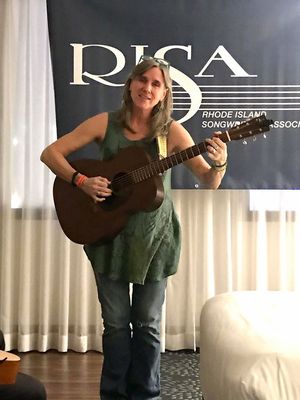 NERFA is always wonderful and overwhelming. It proved to be both again this year. Thanks to all of the volunteers, workshop panelists, mentors, folk radio djs, promoters, showcase hosts, and venue booking agents who attended, performed, listened,and networked. It was an incredible weekend. Noel Paul Stookey's keynote address was inspired, and inspiring. 
But that's just the beginning! I can't wait to celebrate my pal Betsy Siggins of Folk New England when Club Passim presents her with a lifetime achievement award at their 50th Anniversary Gala on Thursday, November 14 at the Shubert in Boston. She has been, and continues to be, a formidable force in the world of folk music. Here she is with her panel of incredible women for her workshop on Women in Music at this past weekend's NERFA conference. 

On Saturday, November 16, I'll head to the Brooklyn Coffee, Tea, & Guesthouse in Providence, RI to participate in their monthly RISA Songwriters' Showcase. I'll be featuring along side Mark Stepakoff and Michael Graham. Tickets are $5 each and you can purchase them in advance by following this Eventbrite Ticket Link.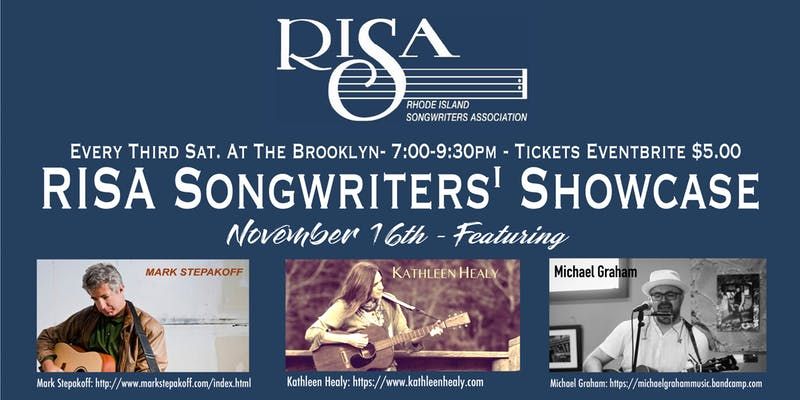 I'm thrilled to be featuring at the Coffeehouse at the Mews in Provincetown on Monday, November 18. I'll be performing many tracks off of my new album, Embracing the Journey, as well as some brand new, yet-to-be-recorded tunes. I hope to see you there!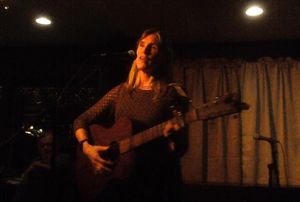 I'll be hosting Harvest Open Mic on Wednesday, November 20 at 6:30 at Harvest Gallery Wine Bar in Dennis. Joanne Lurgio will be our feature performer from 6:30 - 7:15. I'm looking forward to hearing some of the songs from her recently released album Crossing Jordan. Come early to enjoy great food and get first crack at the open mic sign up sheet, and enjoy Joanne's feature set!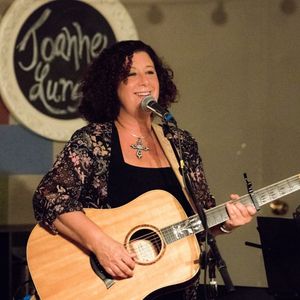 On Thursday, November 21, I'm headed to the NAEYC Annual Conference (I'm an early childhood music educator by day!) in Nashville, TN, where I hope to snag a spot at the open mic at the Commodore Grille. And if not, I'm sure I'll be listening to some amazing live music. Either way, it's a win win! I've never been to Nashville and I am beyond excited to be making this trip.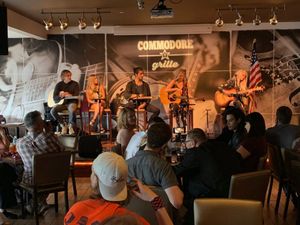 You can find Heyday at O'Shea's Olde Inne on Wednesday, November 27. Yes, the night before Thanksgiving. So get your prep done early and come on down to catch our set! It'll be a nice break from sitting around the house with all of your out-of-town relatives!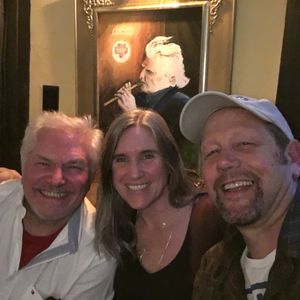 And then, to wrap up a very busy November, I'll be appearing solo at the Harwich Inn and Tavern on Route 28 in West Harwich on Saturday, November 30th at 7:00 pm. Another great way to get a much needed break from those out-of-town relatives. Or, if you don't need a break, bring those relatives with you for a change of scenery and some great live music! 
Last but not least, I'm so excited to be sharing the bill with Caroline Brennan, Catie Flynn, and Kathi Taylor for our Inaugural Songbirds Concert at the Sons of Erin. (Think Paddy Murphy Quartet but with women!) This event will take place on Sunday, December 1, from 4:00 - 7;00 p.m., and does not conflict with a Patriots Game! Some come on out and support the Songbirds of the Sons!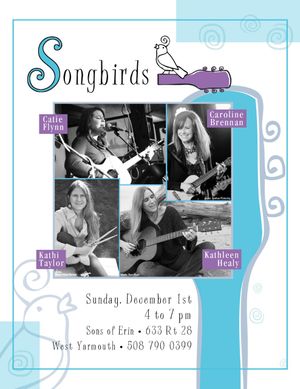 Wishing everyone a safe and happy November, filled with gratitude. And remember, live music is the perfect cure for these shorter day blues!