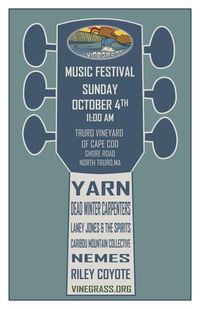 Whoa! Summer was a blast - jam packed with music and fun but it seemed to fly by way too fast.  Hoping to catch my breath a bit as we head on into fall. 
​Sunday, October 4th will find me at the 2nd annual 
Vinegrass Festiva
l at Truro Vineyards - an incredible line-up of local and national acts. Last year was a blast, I'm sure this year will be too.  Come hear some great music and support Vinegrass Organization's mission of promoting roots & Americana music here on Cape Cod. Money raised goes to our scholarship fund. Scholarships are awarded to a Cape & Islands High School senior who is planning to pursue a degree in music at an accredited College or University.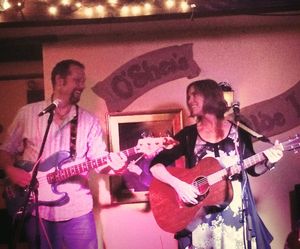 I am honored to be opening for 
Kevin Connolly
 at his Cape Cod release of his new CD Ice Fishing at 
O'Shea's Olde Inne
 in West Dennis on Friday, October 16th. An evening of live original music not to be missed.
And speaking of O'Shea's . . . the duet of Kate & Bill return for their monthly "Sunday after the Session" on Sunday, October 25 at 8:30. Always a blast - see you there! ​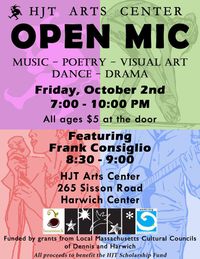 First Friday All Ages Open Mic continues with feature 
Frank Consiglio
 on Friday, October 2. $5 cover goes toward the
 HJT 
scholarship fund. Folks of all ages and talents are encouraged to come and share some music, spoken word, short skits, comedy, juggling, dance, surprise us! Sign up at 7:00, feature performer from 8:30 - 9:00. 
Harvest Gallery Wine Bar
 Open Mic resumes its weekly schedule starting Wednesday, October 7. This shindig kicks off with sign-up at 7:00 and 10 or 15 minute slots running from 7:30 - 10:30. PA, mics, stands, & cords provided.  Come early to get first crack at the list, enjoy a delicious dinner from the farm-to-table menu, take in the changing art exhibits on the walls, and get ready for a great evening of local live music.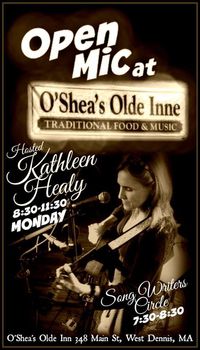 O'Shea's Open Mic continues every Monday evening where I share the hosting responsibilities with
Doreen LaFranchise
and
Jordan Renzi
. I kick off the evening a little early with the Songwriter Circle - unplugged acoustic around the trunk from 7:30 - 8:30, followed by the plugged in open mic from 8:30 - 11:30.  I will be hosting on the following Mondays this fall:
October 12
November 9*
November 23
December 14
* this is a switch with Jordan - she will host on my scheduled November 2, I will host on the 9th, then we're back to our original schedule.
Come in early to enjoy your favorite fare in the most authentic Irish Pub this side of the Atlantic. Order a pint or two of your favorite brew, cozy up to the fireplace, and enjoy a great night of live music. 
Stay tuned for more solo/duo/Trailers dates in November & December!